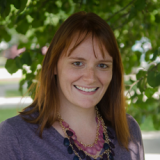 November 29th, 2012
Originally from New Jersey, Gini headed to Lynchburg  ​to attend college at Liberty University. ​After receiving her BS in Psychology, Human Services in 2007, she traveled around for a few years spending time in North Carolina and California, but found herself back in Lynchburg. ​ ​ After working in management at a staffing company for a few years, she started with Stand-Up in July 2013 as Director of Supported Employment.
Her favorite part of the job is being able to advocate for someone that may not have anyone else on their side. Being a part of a company that has made and continues to make a difference in so many people's lives is something she's very proud of!
​Her first job was a cashier at McDonalds for 3 years. I got hired when I was 15 and worked there until I graduated high school.
Favorite quote-  "Twenty years from now you will be more disappointed by the things you didn't do than by the ones you did do. So throw off the bowlines, sail away from the safe harbor. Catch the trade winds in your sails. Explore. Dream. Discover." – Mark Twain
email: [email protected]