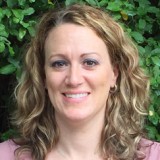 January 20th, 2011
Hello! My first job was a loan processor at SECU after graduating from Meredith College with a B.S. in Business in 2001. I received an MS in Sport Management from Western Carolina University in 2008 and moved back home to South Boston, Virginia. Moving back home led to a job as a one-on-one for an emotionally disturbed child. This eventually led for my love to work with individuals with disabilities and wanting to see them succeed.
My favorite quote is:
"Be the change that you wish to see in the world." Mahatma Gandhi"
My hobbies are cooking, gardening, and watching home improvement shows.