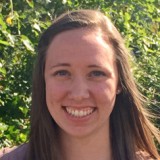 January 20th, 2011
Lauren received her degree in Psychology from Winthrop University. Originally from Fort Mill, South Carolina, Lauren moved to Lynchburg this year looking for new experiences. She works as an employment specialist with Stand Up.
Lauren was drawn to this job because she is passionate about teaching people that they have a voice. She loves being able to daily encourage people who may have been told that they are not capable. She wants them to see successes in their life and gain confidence in themselves.
Lauren's main previous job experience has been at coffee shops. One of her favorite things to do was train the new employees and watch them as they transform from nervous beginners to confident workers.
Lauren's hobbies include playing guitar, singing, and hanging out in cozy coffee shops or in nature.
Favorite quote….
"Be yourself; everyone else is already taken." –Oscar Wilde
email: [email protected]